In order to meet the diverse needs of the times, we take immense pride in producing fluid control devices delivering safety, durability and reliability.

The KITZ Group's engineering section is actively and boldly engaged in research and development to realize KITZ' Statement of Corporate Mission: "We strive to build a robust global environment and sustainable future by supporting societal infrastructure through our advancements in fluid control technologies and materials."
♦Core technologies
We integrate process technologies in the field of sealing, material and process engineering that serves as the core of our R&D operations.
♦Providing solutions
We focus on resolving customer problems and provide products and services that please our customers.
♦Speed and global network
We develop new products rapidly by utilizing the worldwide group network to respond to the diverse needs of customers.

KITZ Corporation started operations from manufacturing general-purpose valves. Over the years, KITZ has continually gone a step ahead of the needs of emerging markets and developed high value-added products, advancing from manually operated shut-off valves to automated control valves, and from single valves to complex modular products.
What makes it possible is sealing technology and materials development. Sealing technology has been developed in a wide range of fields from low pressure to ultra-high pressure, from extremely low temperature to high temperature, with up to more than 90,000 products created. The Company has also, based on its know-how cultivated over the long period of its history, developed optimum metal materials and introduced new products through high-level casting technology. These technologies are still evolving.
Sealing Technology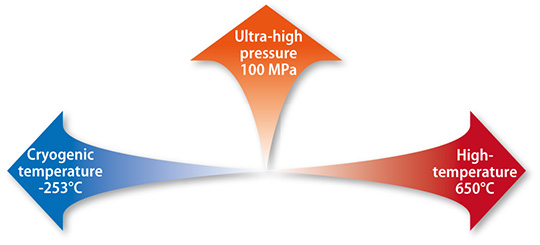 The Product Development Department at KITZ is engaged in research and development to provide value to customers in a wide range of fields, including building utilities, petrochemicals, clean energy, water treatment and semiconductors.
To maximize the synergy of the Group, engineers from Japan, Europe, the Americas, ASEAN and China collaborate to promote product development and design, utilizing networks such as groupware, and have established a technology structure for design at the optimum sites worldwide. We also develop products with materials and specifications that are compatible with the markets and regulations in each country, and strive to improve efficiency through the active introduction of DX, such as promoting product development according to market needs through centrally managing product drawings, design drawings and component tables through the use of PLM*.
In response to the diverse needs of today's world, each and every engineer, by raising the level of his or her skills and continuing to take up the daily challenge of value creation, is creating fluid control devices that are outstandingly safe, durable and reliable.
* PLM: Product Lifecycle Management
To Provide Next-generation Solutions
As part of KITZ' 70th anniversary project, the KITZ Group Innovation Center was constructed on the grounds of the Chino Plant.
On the second floor, which has an office area for development and design sections, there is ample meeting space. Thanks to the adoption of hot desking and activity-based working (ABW)*, the space encourages the free and flexible exchange of ideas and knowledge. This has created an environment for the speedy development of products and technologies that will satisfy customers.
In addition, on the third floor we have set up an "innovation studio" for putting design ideas that create new value with original ideas into practice. This will be the starting point for the providing of solutions aimed at the next generation.
* ABW: A working style where people choose their work location based on the nature of the work at the time.

Valve research and development process
[1] Structural analysis
The optimal structure of the product is designed by using simulated fluid analysis, stress or other structural analysis.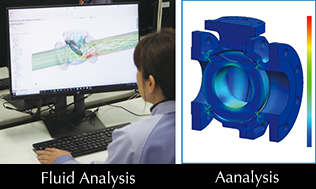 [2] 3D prototype verification
Prototypes can be verified at an early stage using 3D printer modeling. Customers can check those prototypes by touch.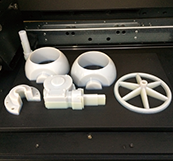 [3] Casting analysis
Design for an optimal mold for casting is planned using solidification analysis.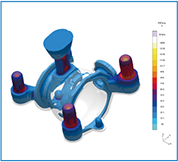 [4] Mold design/production
The CAM* data used to design the molds is transferred to processing equipment, and molds are produced internally.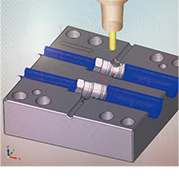 *Computer Aided Manufacturing
[5] Reliability test
Testing and analysis is carried out under every condition of use.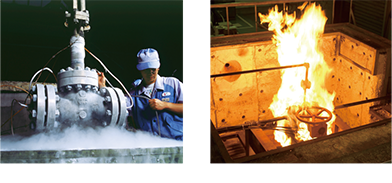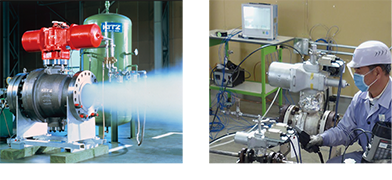 ---