Separation and water purification technology
Increase the added value of fluids
Foreign matter such as water stains or dust caused by corroded piping may enter the fluid flowing through the piping. If the fluid is left as it is, valve seat may be damaged and the internal sealing performance may be degraded. Doing so may interfere with the operation of the equipment handling the fluid. To prevent these problems, a "strainer" that separates and removes foreign matter from the fluid plays an important role. This "strainer" has a built-in screen for filtering foreign matter in the fluid, and has a structure that enables removal of foreign matter accumulated in the screen while the strainer body remains connected to the piping. By deepening this separation and filtration technology and making it cleaner, we can increase the added value of fluids.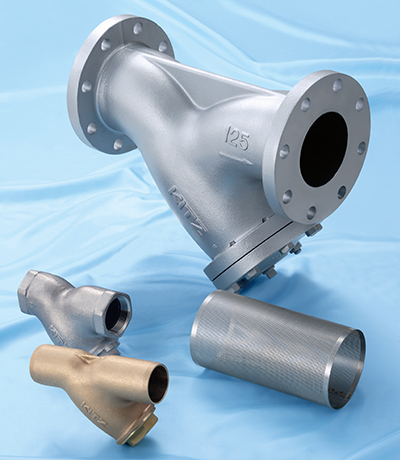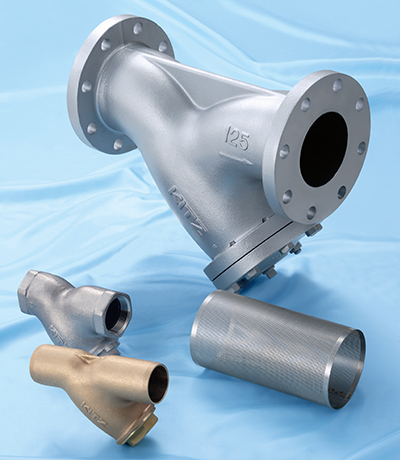 Deepening of separating and purifying technologies (KITZ Group's strengths)
KITZ began developing hollow fiber membrane filters in 1985 as it pursues the sophistication and diversification of the functions of its fluid control equipment. In 1990, it launched a household water purifier (trade name: OASICS). Today, we have added a new lineup of household water purifiers (trade name: Purifier) that can be directly connected to tap faucets, while becoming one of the mainstay products of KITZ Micro Filter Corporation, a group company. We use safe and secure water more economically than PET bottle mineral water.
In 1995, Shimizu Alloy Mfg. Co., Ltd. became a member of KITZ Group and developed a portable membrane filtration system (trade name: Aqua Rescue), which was launched in 2004. This product is a water purification system capable of drawing water from various sources, such as raw water purification plants, fire-proof tanks, and wells, and producing a single unit of water that meets the water quality standards of tap water by filtration using a membrane module and hypo-injection. The compact unit structure makes it easy to move and carry in. It is also used in small-scale water purification facilities and in evacuation centers in times of disaster.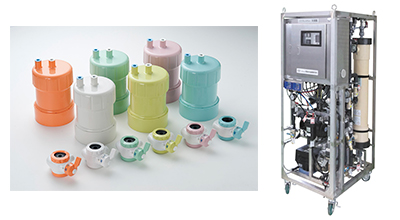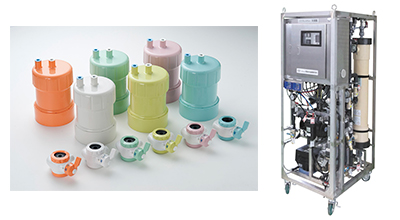 Evolution of sterilization and purification technology
In 2006, Toyo Valve Co., Ltd. began marketing a sterilization and water treatment system (trade name: Pureculaser) that combines ozone-, ultraviolet-and photocatalyst. We meet the needs of disinfection of cold and warm water in swimming pools and hot baths, removal of chlorine bromide, and disinfection and purification of culture solutions in hydroponic culture.As a sterilization/purification device manufactured by a valve manufacturer, we have earned the trust of our customers.
In addition, Pureculaser uses a compact unit structure, and its applications have been expanded to include industrial applications such as cleaning tanks in the plating process to meet a wide range of needs, from public facilities to private facilities.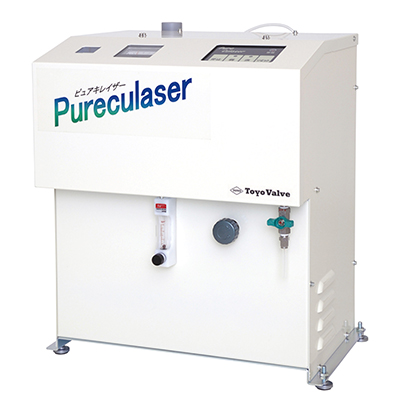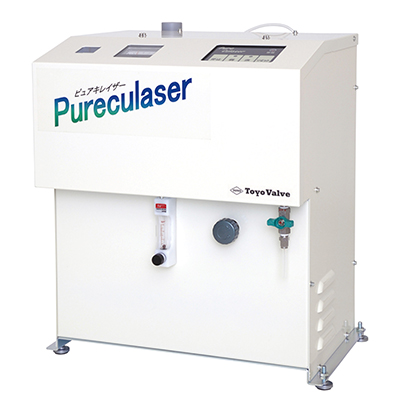 Initiatives for Sustainable Growth
KITZ combines the separating and purifying technologies owned by Group companies so that people who need clean and safe water can use it where they need it when and when they need it. We are working to develop new technologies while utilizing features such as the adoption of a compact unit structure. By providing customers with the most suitable water solutions, We are contributing to a sustainable society.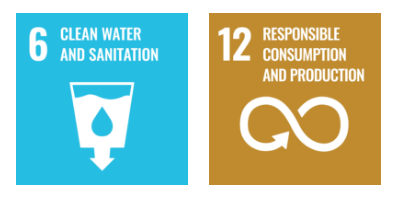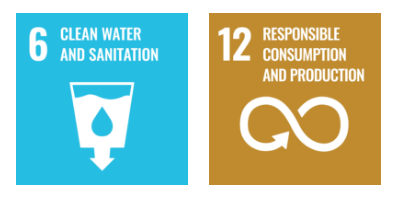 Contact us
For inquiries about product technology, product purchases,
catalogs, and quality