Policy on Procurement
The KITZ Group contributes to enriching people's lives by delivering improved products, technologies, and services to people around the world. To realize this goal, we implement procurement activities based on the following policies.
1. In our relationships with suppliers, we aim for joint growth and progress, as well as building relations of mutual trust, through fair and equitable transactions as equal business partners based on principles of coexistence and co-prosperity.
2. Based on a high sense of ethics and social consciousness, we comply with the laws, regulations, and social norms of each country, fulfilling our social responsibilities in areas that include respect for human rights, ensuring occupational health and safety, environmental protection, and information management and protection.
3. We deploy procurement activities with consideration not only for stable and appropriate quality, prices, and delivery times but also for reducing the environmental impact.
Conditions of Procurement
Please check the KITZ Conditions of Materials Procurement.
Methods of ordering
1. Repeat orders
In principle, we do not employ ordering conducted periodically or in fixed quantities. While, in principle, we make tentative decisions on planned transaction volumes at least two months in advance, we employ transactions conducted irregularly in which products are ordered repeatedly in fixed volumes. Basically, we ask suppliers to maintain inventories of products ordered repeatedly. Although, in principle, we request guarantees of receipt of these inventory volumes in the amount of tentative decisions on purchase, as necessary, we will negotiate these separately.
2. One-time orders
These orders are placed for only the materials needed when we receive an order with special specifications from a customer. In principle, we do not employ guarantee of receipt of surplus in these transactions.
Methods of delivery
1. Packed delivery
In principle, based on environmental considerations, we ask suppliers to use minimal packaging in special containers in periodic transactions and those in varying volumes (repeat orders). We negotiate separately on packing methods.
2. Procurement logistics delivery
We have a growing domestic logistics network. Suppliers can use this route in transactions conducted with us. We negotiate separately on details.
Important Purchases
Materials and supplies we procure at present are listed below.
Category
Subcategory
Sub-subcategory
Now seeking?
Casting raw materials
Scrap
Cast iron, ductile iron, stainless steel, bronze and brass
ー
Casting alloys
Various types
For use in the casting above
ー
Castings
Cast and forged products
Stainless steel, cast steel, bronze and brass
ー
Cast products
Cast iron, ductile iron (approx. 200 g – 100 kg)
ー
Investment casting products
Ductile iron, stainless steel
Now seeking
Aluminum
Die casting, gravity casting products
Actuator components
ー
Bolts, nuts
Stainless steel, Alloy steel (chiefly ASTM)
ー
Packing
Various types for valve use
ー
Gaskets
Various types for valve use
ー
O-rings
Various types (for industrial use)
Now seeking
Plates
Aluminum, stainless steel
ー
Strainers
Various types in stainless steel
Punched metal products
ー
Sheet metal working
Various materials
Pressing, welding, bending, etc.
ー
Surface treatment
Plating
Various types of plating
ー
Machining
Machining work
Various materials, various forms
ー
Painting
Painting work
Powder, spray
ー
Paints
Various types
ー
Resins
For molding, machined
Various plastics and fluororesins
ー
Safety gear
Various types
ー
Machining tools
Various types
ー
Packing materials
Various types
ー
Corrugated cardboard
Various types
ー
Welding
Various types
ー
Heat treatment
Various types
ー
Springs
Various materials (e.g., Inconel)
ー
Electronic components
Circuit boards, relays, cables, etc.
ー
Motors
For valve driving
Compact motors, electric motors
ー
Others
For valve use
New materials, new construction methods
Now seeking
List of individual product inquiries
Currently we are seeking the following items individually.
| Control No. | Item | Material | Quantity | Note |
| --- | --- | --- | --- | --- |
| 2014-0801 | Valve Body | ALBC2 | 300units/year | maximum weight 40kg |
Procedures for new transactions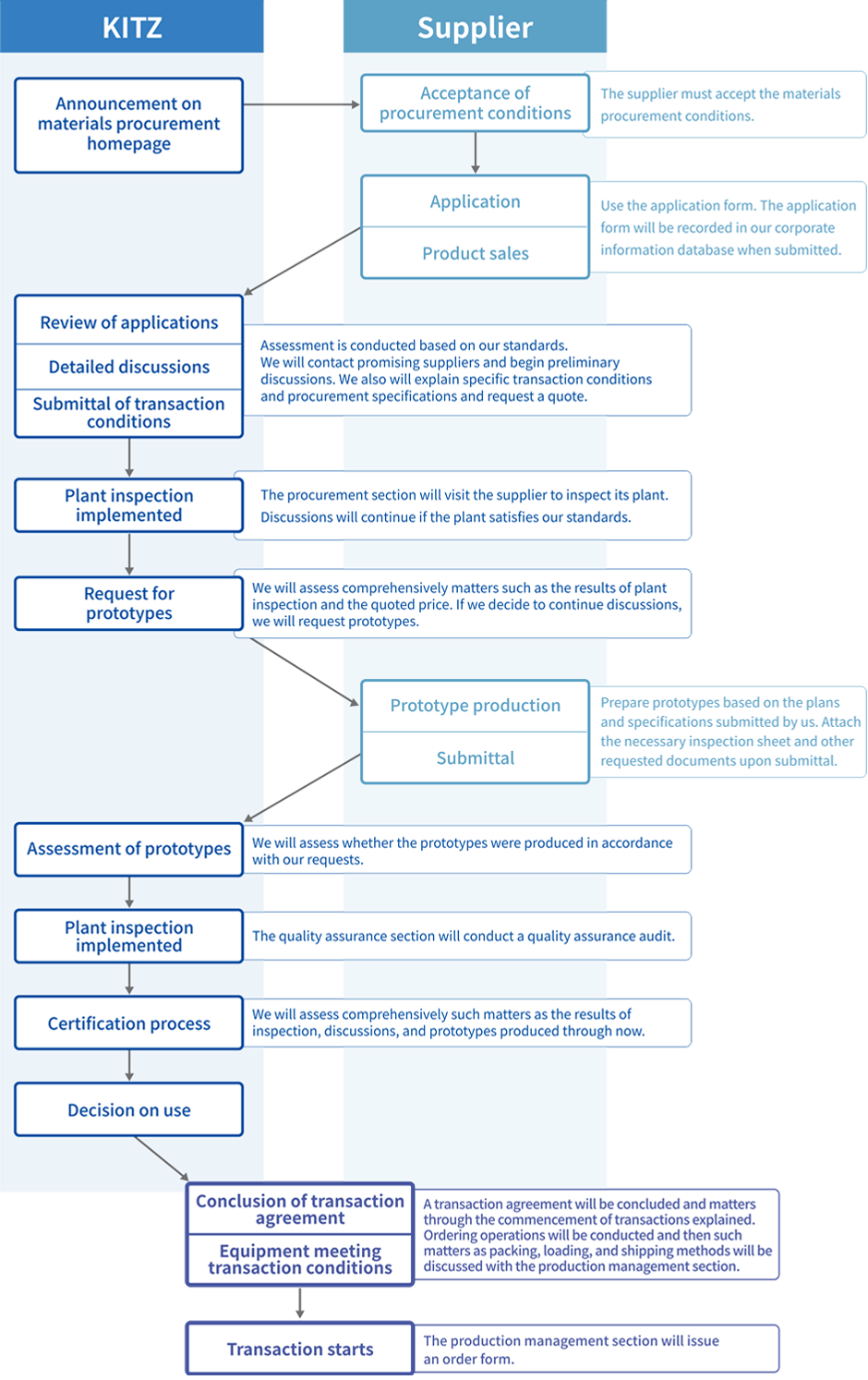 Caution)
Note: The above flowchart represents a typical example for a product handled by KITZ.
Steps may vary depending on the product. Contact us using the application form for more information.
For Suppliers
Application form
The following is the application form for new transaction.
Suppliers who wish to sell the product should check whether or not they can apply for it and apply from here.
Contact us
For inquiries about product technology, product purchases,
catalogs, and quality