KITZ Corporation of Kunshan
Corporate Profile
Name

KITZ Corporation of Kunshan
Address

No.15 Taihu South Road Economic and Technology Development Zone, Kunshan, Jiangsu Province, P.R. China
Phone No.
Established

January 2002
Business Activities

Manufacturing and sales of stainless steel valves
ISO Acquisition

December 2010
Examples of environmental activities
Responding to climate change
We actively promote the use of indoor and outdoor LED lights and turn them off during breaks to reduce the energy used for business. In addition, when the factory is closed, only one air conditioner is turned on inside the mold drying room in efforts to reduce power consumption.
Waste management and resource saving
We set waste reduction as a priority objective and implemented a variety of different measures. While all departments promote the complete separation of waste, production departments work to reduce the volume of cardboard discarded at customers' sites by abolishing the use of outer cases for large-sized products and reduce the volume of wood waste by reusing scrap lumber for packing automatic valve products. In addition, all employees work together to reduce the volume of kitchen waste from the company's canteens as well as the amount of waste copy paper by reusing the back of the paper.
Environmental management system
Having followed the changes in laws and regulations in the 2015 financial year, we improved water quality by remodeling wastewater treatment plants, increased and remodeled dust collectors, and refurbished acid scrubbers to meet strict standards. On the other hand, for education and other awareness-raising activities, we provide new employees with regular guidance on the separation of waste and distribute cards on which the company's environmental policies are specified to help make employees aware of the policies.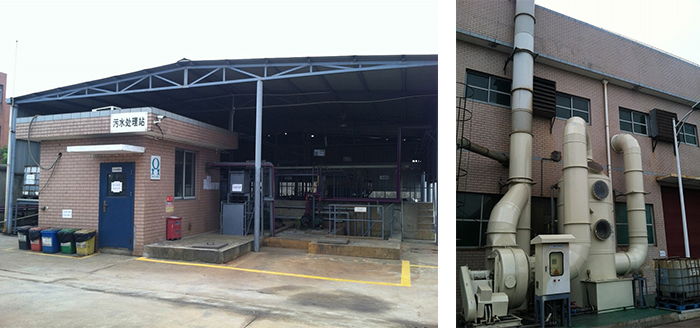 During the Safety and Environment Month in May, the company provides educational opportunities to raise the awareness of all employees, including such activities as inviting slogans from all employees, recognizing excellent workers, and displaying banners of the slogans.
Contact us
For inquiries about product technology, product purchases,
catalogs, and quality