KITZ Corporation of Jiangsu Kunshan
Corporate Profile
Name

KITZ Corporation of Jiangsu Kunshan
Address

No. 188, Zhongyang Road, B Zone, Kunshan Comprehensive Free Trade Zone, Jiangsu Province, P.R. China
Phone No.
Established

September 2003
Business Activities

Manufacturing and sales of cast steel valves
ISO Acquisition

April 2011
Examples of environmental activities
Responding to climate change
In order to reduce power consumption, we promote the replacement of indoor and outdoor lighting with LED lamps and turning off the lights during breaks. In 2015, the company replaced all lighting in offices with LED lamps and plan to execute the same replacement throughout the entire factory.
Waste management and resource saving
We are implementing a variety of different measures to reduce waste and conserve resources. In order to achieve thorough waste separation, the company placed dust boxes to separate paper, metal, general waste, and plastic and provide lunchtime education sessions on garbage sorting. In order to reduce paper waste, scrap paper is used for photocopying.

Environmental management system
As environmental laws and regulations in China become stricter, we are strengthening compliance. In addition to introducing VOC purification equipment to improve the treatment of volatile organic compounds generated during the painting process, the company is working to reduce the volume of wastewater by circulating valve inspection water by installing additional wastewater treatment tanks.
In addition, as a forerunner of the KITZ Group, the company has been preparing for the practical use of water-based paints since July 2016. Some of conventional paints have already been replaced.

Report from an employee transferred from Japan
Participated in 'Garbage separation awareness campaign' sponsored by public utility
On April 28, 2019, our personnel participated in a garbage separation awareness campaign hosted by the city government (a department that manages the city's environment and markets) in the Free Trade Zone where the company is located.
In recent years, China tightened environmental regulations, and the responses by businesses have appeared in Japanese media. Regulations for ordinary consumers have also been tightened. In fact, at the apartment complex where I live, we did not use to separate trash, but now they placed a bin for recyclable and another for non-recyclable trash. However, the concept of separating garbage among the household is not widely recognized.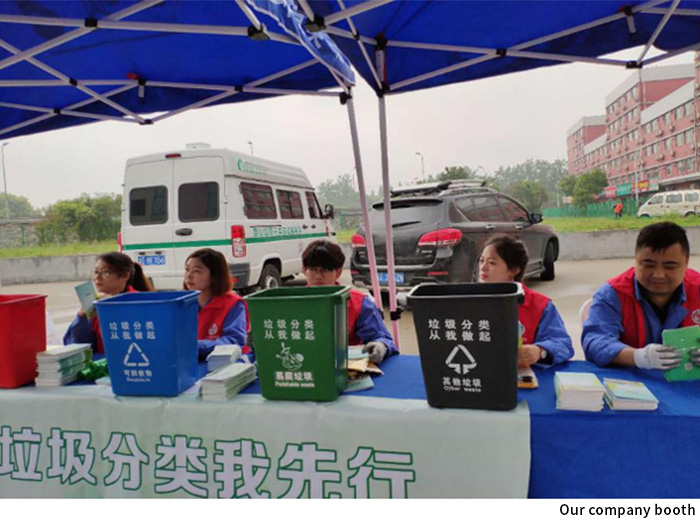 The event began at 8:30 a.m. in the plaza in the Free Trade Zone. Our employees explained to the general participants the need for garbage separation and showed them how to sort garbage according to the types. We gave out brochures on garbage separation and played quiz-style games (participants were given questions on garbage separation and small prizes were awarded for correct answerers, such as aprons and garbage bags). In contact with general participants, we emphasized the importance of waste separation. The event was a great success with over 500 people participating, and the event was filmed by a local TV station.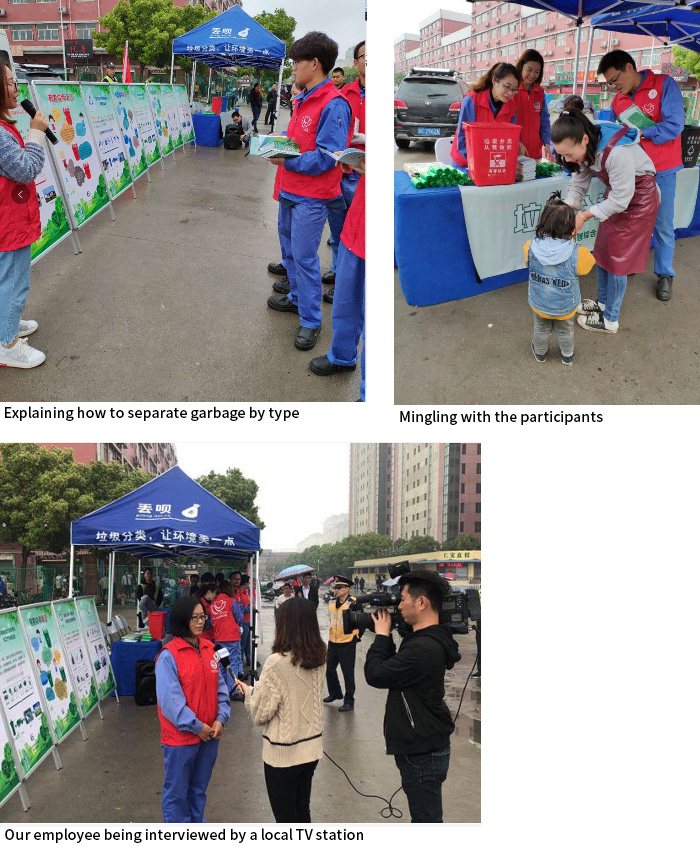 Comments from participants
We participated in activities that improved the environment in Kunshan City and in China as a whole, and we were able to spend meaningful time with our friends. I want to expand the circle of activities for our children. I would like to actively participate in these kinds of opportunities in the future.
Contact us
For inquiries about product technology, product purchases,
catalogs, and quality