Clean-room technology
for semiconductor manufacturing processes
Fluids used in semiconductor manufacturing processes
When manufacturing semiconductors, first, semiconductor wafers such as silicon are polished, and a thin insulating film is formed on the polished surface using oxygen, nitrogen, etc. Then, a series of processes is repeated: coating a photosensitive agent called photoresist on an insulating film, irradiating light to burn fine electric circuits, and removing unnecessary photoresist with a developer.
Fluids used in such semiconductor manufacturing processes include high-purity gases such as oxygen and nitrogen, special gases, ultrapure water used for polishing, and developers and peeling liquids used to remove photoresists (photosensitizers). In addition to these gases, effluents and effluents are also subject to flow control.
Filters and valve for semiconductor-manufacturing processes
In 1997, KITZ succeeded in developing a hollow fiber membrane filter (trade name: Polyfix) for photoresists, and is now one of KITZ Micro Filter Corporation's mainstay products. Polypropylene and polyethylene materials are available. With the increasing density of semiconductors, we provide customers with highly sophisticated cleaner technologies. For example, 5nm(1nm that are smaller than viruses enable material filtration (one-millionth of 1mm).
KITZ SCT Corporation, which entered KITZ Group in 2001, offers an extensive lineup of valve and fittings for high-purity gases. In particular, the stainless-steel valve is polished to remove fine irregularities on the surface of the material in micrometers by electrolysis, etc., and a valve element called a diaphragm is devised over time. This enables a stable supply of clean valve that suppresses the generation of particles (fine impurities) even when the valve is opened and closed 4 million times.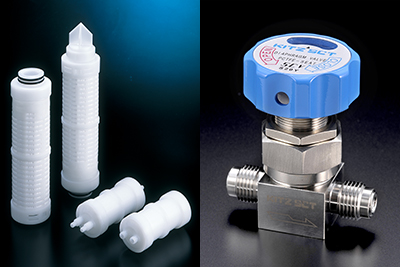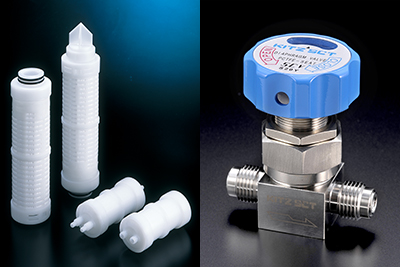 Unit equipment for semiconductor manufacturing processes
KITZ SCT Corporation also offers unit equipment for boosting pure water used in CMP(Chemical Mechanical Polishing) equipment used to polish wafer surfaces. Pumps and pipes inside the equipment are made of materials that are low in metal-ion elution. In addition, they are equipped with a 0.1-μm filter to ensure stable, high-pressure (0.25~0.35 MPa) supply of clean pure water that prevents particle outflow.
In addition, the decontamination and water treatment equipment (trade name: Pureculaser) provided by Toyo Valve Co., Ltd. is also used for the reuse of pure water used in the plating and cleaning processes of semiconductor plants. Pure water has no bactericidal effect, and the bacteria that have grown may become contaminated with impurities. Pureculaser is used for the reuse of pure water by accelerated oxidation treatment using ozone, ultraviolet rays, and photocatalysts, without the use of disinfecting chemicals.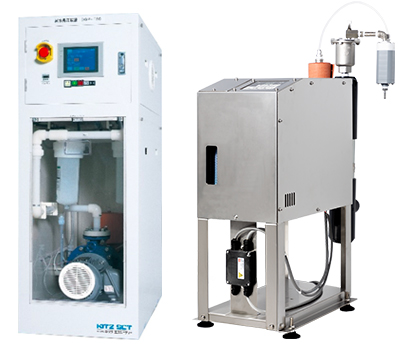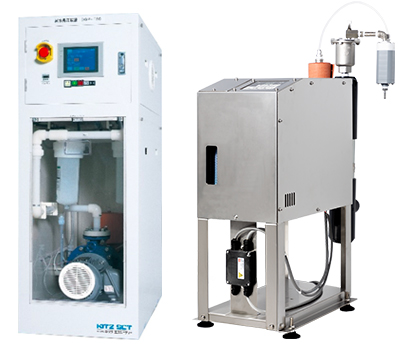 Initiatives for Sustainable Growth
In the ever-evolving electronics industry, there is a need for timely and speedy technical proposals. It is also necessary to continuously supply customers with clean fluidic equipment in response to rising prices and consolidation of resin materials while reducing environmental impact. KITZ Group will continue to take on the challenge of developing cleaner technologies, such as further refinement and low elution, while aiming to grow together through dialogue with suppliers of plastic materials and other business partners and customers.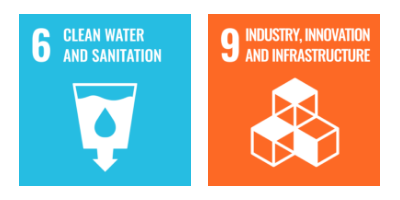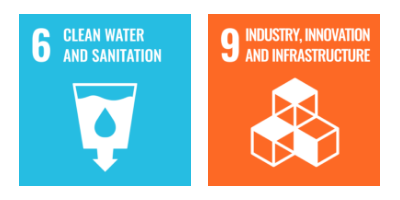 Contact us
For inquiries about product technology, product purchases,
catalogs, and quality