Since our foundation, the KITZ Group has established a strong sales network covering all of Japan. Today, we are working on the development of a global sales network in order to meet customers' requests with regard to quality, price, delivery and service.

We have developed a sales structure to respond to customer requests immediately through a strong distributors' network covering all of Japan. These distributors and KITZ are connected via dedicated lines and the Internet. As a result, information on market demand is fed back directly to the production site, and this also achieves marked improvements in business efficiency and the acceleration of business. We have also adopted a pull production system, a system for setting a standard volume of distributor inventory for each product and replenishing the quantity shipped on a daily basis to maintain the inventory at a certain level. With this, distributors do not need to monitor the inventory volume of products for which standard inventory is set and can meet needs for rapid delivery.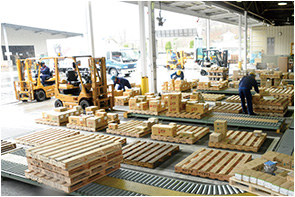 KITZ provides a variety of products, from goods familiar in our daily lives to the production processes encompassing industrial fields, through its powerful and wide-ranging sales network.
Customers in each market decide which valve manufacturer they will use. To respond to customer needs with a diverse range of solutions, KITZ listens carefully to usage conditions and the issues customers face to select the most suitable valves and quickly respond with prices and delivery times.
After delivery, we maintain close contact with customers through meticulous support services including technical assistance, parts supply and on-site inspection and repair. We build win-win relationships with customers by securing repeat orders from customers and by accepting maintenance requests for existing valve installations.
KITZ Engineering Service Co., Ltd. (KESCO) handles aftersales service. Through coordination between four domestic service centers and affiliate companies, we provide smooth and varied maintenance services across Japan.
KITZ's Sales Activities in Japan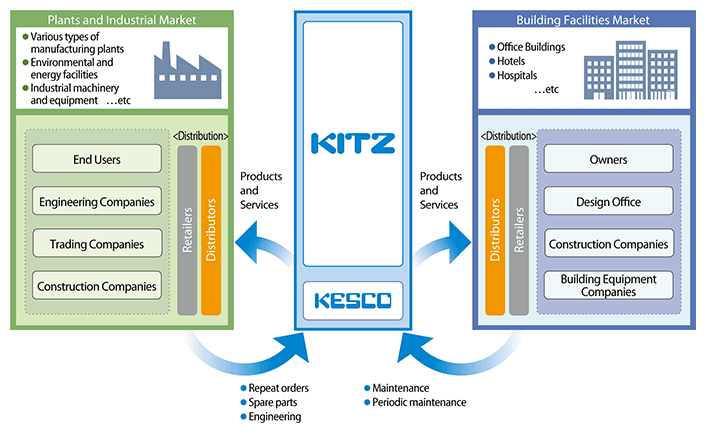 The KITZ market covers the entire globe, with priority given to the regions that have the greatest demand for KITZ products. Beyond the home market in Japan, our priority market zones are centered in the three key market regions of Europe, the Americas and ASEAN nations, and the two important countries of China and India.
Globally, we have established regional headquarters that provide the functions of sales, marketing, engineering, stock, maintenance and service for each area, and conduct business close to the region and provide products and services to satisfy local customers' needs.
In addition to the representative offices in India and UAE, we have established sales bases in China, Hong Kong, Korea, Singapore, Thailand, Malaysia, Vietnam, the United States, Germany, Spain and Brazil and have developed global sales networks. In order to respond to individual requests from customers, we are endeavoring to develop the KITZ Official Modification Shop network for the modification and repair of valves.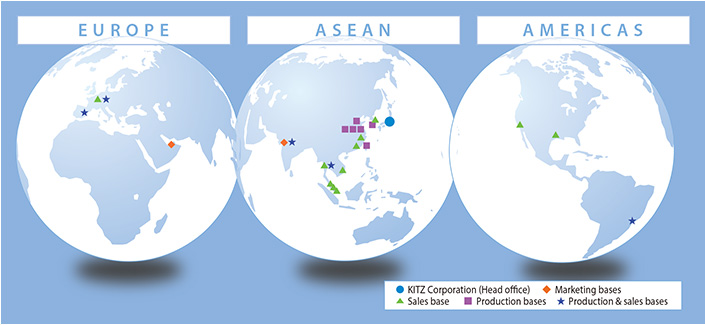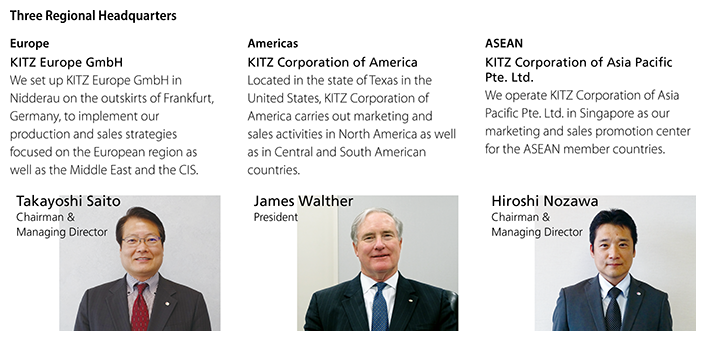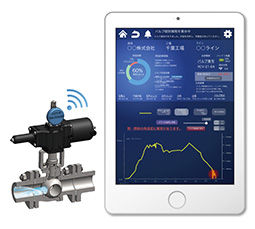 Conceptual image of the condition of a valve checked with a tablet
KITZ is working to develop technologies that utilize IoT sensors and AI enabling it to detect anomalies and predict failures in the valves installed in plants.
We are currently developing a system to analyze data uploaded to the cloud from IoT sensors retrofitted to valves by having AI learn data from various liquids collected with the cooperation of users. In the future, it will be possible to use a tablet or other device to check the condition of valves in real time from a remote location, and provide customers with solutions that analyze the cause of trouble.
---