The KITZ Group operates a brass bar manufacturing business, manufacturing and selling brass bars and other fabricated brass products (cut and forged brass products). Brass bars are widely utilized for machines, construction materials and other applications.
What is Brass?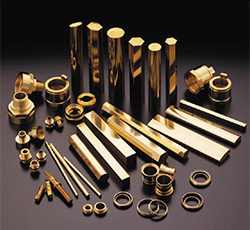 Brass is an alloy of copper (Cu) and zinc (Zn). Modifying the percentages of copper and zinc contained in the alloy and adding various other metallic elements makes it possible to produce numerous superb characteristics, such as electrical and thermal conductivity, corrosion resistance, plastic workability and machinability.
Brass Bar Manufacturing Business
KITZ Metal Works Corporation develops and supplies the materials for brass valves, which are one of the KITZ Group's mainstay products. It also manufactures and sells high-quality brass bars and fabricated items, which are used widely as materials for faucet metal fittings, and components in gas supply equipment, home appliances and auto parts.
Hokuto Giken Kogyo Corporation manufactures and sells cut parts and brazed workpieces.
Development of Environmentally Friendly New Materials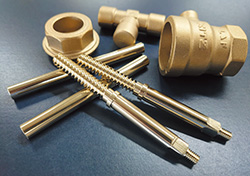 ECO BRASS
®
In recent years, stricter regulations concerning substances that impact the environment have been introduced around the world. In Europe, in particular, lead regulations have become increasingly strict, and the demand for lead-free brass bars is expected to expand in the future.
In addition to the KEEPALOY series of bismuth-based leadfree brass bars it has already been selling, KITZ Metal Works Corporation has also released KEEPALOY II, a series with high recyclability. In 2019, the company entered into a licensing agreement with Mitsubishi Shindoh Co., Ltd. (currently Mitsubishi Materials Corporation) for the ECO BRASS® series of silicon-based lead-free brass bars. ECO BRASS® is a global material registered under JIS, EN and ASTM, and demonstrates high corrosion resistance and strength properties.
Out-of-the-Box Thinking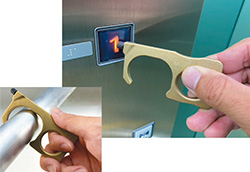 Assist Hook II
KITZ Metal Works has developed Assist Hook II, a contactless sterilization product which uses the ECO BRASS® material. Manufacturing of the product, which is sold by GILD design Co., Ltd., began in October 2020. This product caters to the desire to avoid touching things like doorknobs, hanging straps and elevator buttons in the age of COVID-19.
In the future, we will continue to use our expertise in the processing of brass to pursue the development of products that make use of flexible and innovative ideas.
Brass Bar Manufacturing Process
❶Composition and melting of raw materials
The raw materials are melted in an induction furnace.


❷Continuous casting
The molten alloy is cast into large ingots (called "slabs" or "cakes") using either a water-cooled horizontal continuous casting machine or a vertical semi-continuous casting machine.


❸Cutting
The slabs are cut into billets (intermediate products) of predetermined length ready for extrusion, using a large-scale cutting machine.


❹Heating and extrusion
The billets are heated to the prescribed temperature, and extruded into rods or coils using an extruder.


❺Continuous pickling
Oxides that have become attached to the surface of the alloy during the extrusion processes are removed by pickling.


❻Cold drawing
The rods and/or coils are passed through the die of a drawing machine to finish them into brass bars with accurate shapes and dimensions.


❼Straightening and cutting
Bends or curvature in the bars are straightened out using a straightener. The bars are then cut to the prescribed length.
❽Low-temperature annealing
The bars are subjected to low-temperature annealing at the prescribed temperature in order to remove residual stress and to adjust their hardness.
❾Measurement, packing and shipping
Completed bars are bundled and packed to the prescribed weight and/or quantity, before being delivered to customers.
---