KITZ wins Bronze Awards in "PRIDE Index 2023"
KITZ was awarded its first Bronze rating in "PRIDE Index 2023", an index that evaluates corporations' efforts for sexual minorities (hereafter LGBTQ+).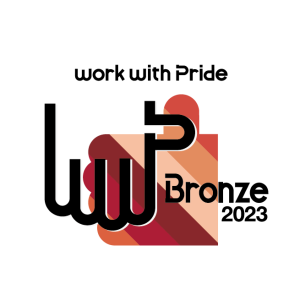 Since 2015, diversity and inclusion have been one of our key management strategies. We are pursuing to improve "Diversity, Equity & Inclusion (DE&I)" in the workplace to achieve our Long-term Management Vision "Beyond New Heights 2030 – Change the Flow." One of the key challenges in DE&I is raising awareness of LGBTQ+ issues, aiming to be a company that delivers growth through diversity and allows employees to be their authentic selves at work.
Current Endeavors
・Internal helpline for sexual/gender diversity issues
・Rainbow Month
・E-learning programs for managers and employees
・Featured webpage on the intranet portal
Future Endeavors
・Review of personnel systems and internal rules
・Renewal of KITZ's website regarding DE&I (scheduled for December 2023)
---
What is "Pride Index"?
It was established in 2016 by "Work with Pride", a private organization. It is the first index in Japan that assesses corporations' LGBTQ+ initiatives in 5 categories: Policy – Action Declaration, Representation – LGBTQ+ network, Inspiration – Raising Awareness, Development – Human Resources Management and Programs, Engagement / Empowerment – Social Contribution and External Activities. Companies are awarded GOLD, SILVER, and BRONZE ratings based on their points